November 8, 2004
I have since sold the RS-T and moved onto a STi. But you can read more about the RS-T at www.pghsubarus.com.
June 20, 2003
This site shows off my 1998 Subaru Impreza 2.5RS-T. I used a custom design that incorporates many parts of DSM's including the TD05h-14b turbo. This turbo powers 90-94 manual tranny DSM's and is pretty badass IMO. It's bigger brother the 16g is used on the EVO and happens to be a direct swap for the 14b...nice upgrade huh? Well that's all for now. There are pics up under the pictures page with some explanations. I'll have some info on tune settings as well as shit I'm going to get.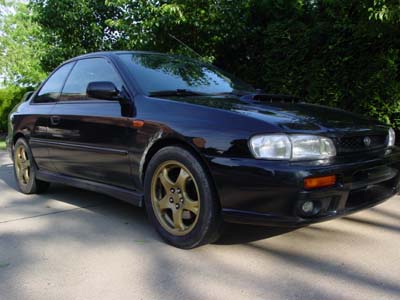 NASIOC: Mancini

AIM: fbrscooby

mancini@pghsubarus.com
Updates:
Blew a head gasket at 3k miles after turbo. Easy fix. Drove the car turbo'd for 10k. It has since been sold. More info at the www.pghsubarus.com about the car, build up, and other Subaru badassery.